How B2B has changed, per McKinsey
McKinsey recently launched a survey of B2B decision-makers across 11 countries, seven sectors, and 14 categories of spend. We're obviously very interested in this space, and our CEO Arnold has dedicated two recent newsletters to potential prospects to cover some of the changes in B2B partnerships and sales models.
McKinsey's results included some of the following high-level trends:
Spend: Most industries are reducing, but some are increasing. We've seen this across our clients and prospects too. There has been a huge surge in gaming, for example. Nintendo made ¥106 billion ($1 billion) from April through June, six times the amount made last year, and the best Q2 haul since 2008 when the Wii was flying off shelves. Nintendo moved 5.7 million Switch consoles and sold 10.6 million copies of Animal Crossing: New Horizons in those three months. That's just one widely-reported example.
Digital: B2B companies are now seeing digital interactions as 2-3x more important than traditional sales interactions. At Conectys, we hired our first-ever Head of Digital this August and plan to hire more digital consultants in the future.
Remote: Almost 90 percent of sales have moved to a videoconferencing(VC)/phone/web sales model, and while some skepticism remains, more than half believe this is equally or more effective than sales models used before COVID-19.
B2B during COVID – The rise of self-service
We were initially going to write this post about indirect vs. direct sales channels, but the rise of self-service is an interesting trend line as well. Look at this: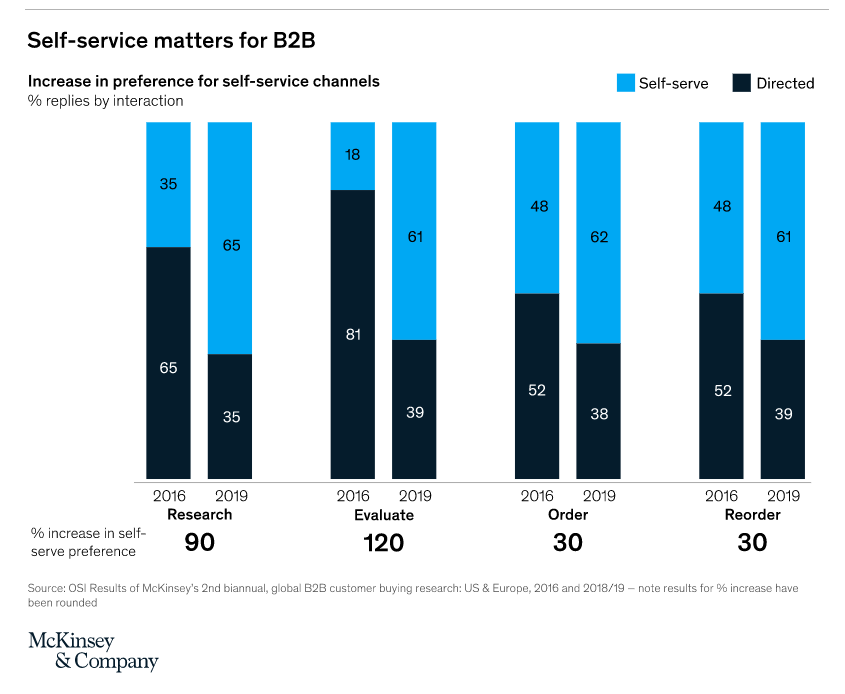 In making a purchase, buyers cited a strong preference for self-service, with suppliers' mobile apps more than doubling in importance since 2019. This carries on a pronounced trend of preference for self-service channels across every stage of the customer decision journey, as seen above.
One interesting element here is that for years, the narrative was that people held different expectations for their business, professional purchases (B2B), and their purchases as members of their family (often B2C). That gap is shrinking.
Ultimately, buyers in both arenas want:
Speed
Transparency
Expertise
No matter what industry you're in or what you do, isn't that what YOU want?
It's interesting to note that 33% of B2B respondents to McKinsey said that live chat was very important for a best-in-class provider in their opinion. Even 5-10 years ago, live chat was not something commonly associated with B2B; if anything, it was viewed as more of a nuisance by true B2B decision-makers in their buying and sales processes. Now it's best-in-class. And think of what live chat provides: speed, transparency, and conveyance of expertise.
Are digital sales more or less effective?
Responses have been mixed among B2B executives: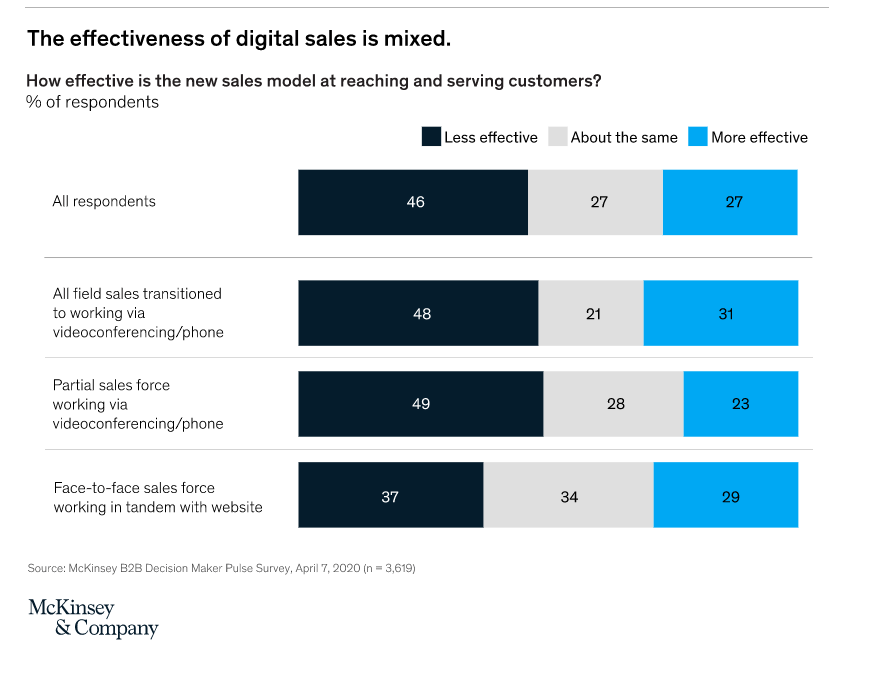 Most of these companies surveyed established multi-silo "nerve centers" to help with sales operations during a time of increasingly remote sales. At Conectys, we trained and re-organized people similarly with an eye towards customer satisfaction (CSAT) metrics but also sales, with multiple units working on business intelligence and tailored decks for prospects.
As McKinsey themselves note:
"The sharp rise in the use of digital and self-service channels means that companies need to be thoughtful not only about how to enable effective digital interactions but also about how to deploy their sales reps to best effect."
Welcome to The New Normal, The Next Normal, or whatever you particularly choose to call it. The core tenets of business — establishing trust, delivering with speed and expertise, and value — are the same, but much of the delivery approach is shifting more rapidly than we expected. We will see what 2021 and beyond brings, but be cognizant of these changes as they swirl around your business. And remember: many large global brands have already announced they're not bringing people back until July 2021, so this will last for a while.