The wellness and resilience of Conectys Employees matters
Here at Conectys we constantly ask the question:
"How can we work together to ensure the mental health and well-being of our employees?"
Why do we care about mental health of the employees?
While tons of global brands seek out to help create safe and helpful online communities through user generated content moderation support of all kinds, they miss the point, that people, who moderate content also need protection.
At Conectys we take the full responsibility of the mental security and wellness of our moderators. How do we do that? In a nutshell, it all comes back to training, support, and care.
Conectys approach to protecting content moderators
There are a few core tenets to how we approach wellbeing and mental health within Trust & Safety and front-line customer experience work. We run these programs from the beginning of launching a new site/account, and we continuously improve and customize them through the life of the project.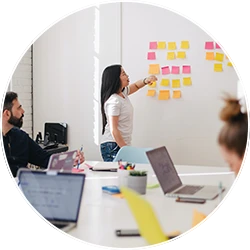 Training
We do lots of it every time we launch a new project or bring new agents onboard, but part of our initial training for moderators is a full-day session called "Moderation Skill Pack". Additionally, our managers have extensive training on how to identify possible signs of mental health issues and how to offer support in such cases.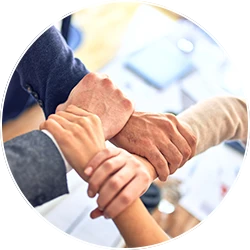 Real time support
We also have something called HR Connect. In short, a dedicated  Human Resources professional is assigned to each site and regular (and proactively) check-ins with moderators, either by request or at random, to offer them guidance and attempt to catch any signs of mental distress caused by their moderation duties.
Our core services plus secured environment around employees equals your trust and safety
Content moderation services
Content Relevance and tagging
Objectionable/illegal content moderation
Social Media reputation & risk management
Content annotation and labeling
Quality assurance
Privacy violations review
Comunity management
Trust and safety consulting
Legal and compliance assurance
Brand and reputation protection audit
Trust and safety operations implementation plan
Technology selection
Content moderation policies definition
Moderator wellness programs development
Moderators resilience programs
Health and wellbeing
Intervention and ongoing staff support frameworks
Professional support
Digital-first thinking
Chatbots, Robotic Process Automation, bespoke/custom AI solutions and a proprietary CRM. How can technology make things better, faster, and safer for EVERYONE?
Consultative partner
We regularly co-create strategies with clients and inform product/sales decisions.
Global Outsourcing Partner
13 locations, 35+ languages, WFH agents, and 24/7 availability.
Flexible
Pricing models, staffing models (up/down seasonal demand), training approaches, and more.