The Manifest Names Conectys as a Most Reviewed BPO Company in The Philippines
Conectys has been at the forefront of customer experience efforts that truly spanned a global audience for almost two decades. Our business model ensured that our clients spent less and got more for every single one of their projects with us.
Today we have tangible proof that we are among the elite in our industry as we are judged by our customers. We're proud to announce that Conectys has recently been awarded as the most reviewed and recommended BPO company in The Philippines by The Manifest.
The Manifest is a business news resource that helps companies find their ideal project partner. They are able to do this by ranking the best companies in every industry coupled with their awards program.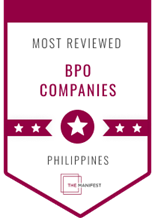 In order for a company to be considered one of the top BPO firms on this platform, they first need to earn as many reviews from their clientele as possible. The fact that we now count ourselves among this exclusive group is all thanks to the support we enjoy from customers and partners.
This is why we want to take this opportunity to thank all our partners who helped make this award possible for our team. We would not be where we are today without their care and support.
"Receiving Clutch Leader Award – is a new stage of international recognition of Conectys, as a global BPO leader in the industry of Customer Experience." – Kanstantsin Vashkevich, Global Marketing Operations Manager for Conectys.
Discover why our services are getting so much praise from the people that experience them by going to our website. If you like what you see and how we do things, feel free to contact our team for any questions or inquiries at your earliest convenience. We look forward to hearing from you soon.